Unlocking Ag with Darcy Meacham
From mustering cattle in North Queensland, to fencing in Kununurra, all roads led Darcy down south to Nathalia, Victoria!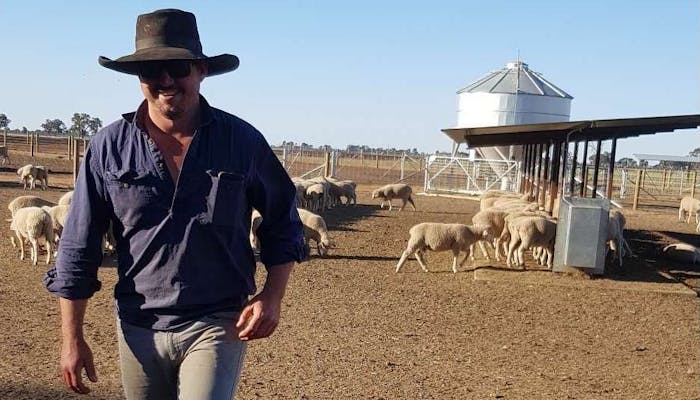 From Darcy's base at his property in Nathalia, the 32 year old has his fingers across many pies, just how he likes it.
"I get bored pretty easy, I like being busy. I don't see farming as a job, it's my lifestyle."
Darcy's always been this way, even as a 17 year old at Ag college in Longreach. He soon realised the classroom was no substitute for getting out amongst the action, and joined a mustering crew west of Cairns.
At 21, there was a chance opportunity to get into contract fencing, and for the next 10 years Darcy travelled around the top end of Australia. With a small crew of just two others, he worked with big corporate cattle companies on fencing jobs ranging from a 10km line to 100km, as well as building custom cattle yards. 
"With station fencing you'd camp out from February to December, it was real tough going. After 10 years I wanted a change, a base camp. My family was down South, so that's where I headed."
Setting up home in 2014 at Nathalia, Darcy got busier than ever, adding hay contracting, cropping, and feedlotting to the fencing mix, which keeps him flat chat. 
"I'm still predominantly doing fencing, here in Victoria, and I've had a full time team in WA for the last three years so I head over there when I need to."
So what inspires Darcy to go further and grow bigger?
Passionate about ag and contracting, Darcy says long term he wants to build up the farm so he can kick back from contracting a little.
"I'll continue to build up the farm whilst continuing with cropping, sheep and the feedlotting side of things – I need to be busy on and off the farm – I enjoy both sides of it. "
How does Darcy setup for future success?
"Probably just fine tuning the contracting. Having the business spread from one side of the country to the other, it makes my life easier knowing I've got a good crew. With a good crew, you can do a lot of things."
"Also having access to cashflow - it can get tied up in input costs and can be 12 months before you get something back."
And what does Darcy keep top of mind to survive the next 30 years in ag?  
"Times have changed, especially with technology. You don't just bang on some fertilizer anymore, everything's measurable; like feedlot recorders that track weight gains.
"In my view you've got plenty of technology to help you out – it's finding the right people with the right experience to get the most out of it."
"Just make the best out of the numbers and use the information. Automated stuff also takes out a lot of the labour, you can be more productive with your time." 
Darcy often uses DelayPay for essential, upfront costs involved in running his farm, so he can do more, with less. Less paperwork, less costs, more opportunity.
Looking to automate your feedlot? How about a custom yard build? Get in touch with Darcy for fencing, feedlots contracting and custom builds you can rely on!
Have a chat with Darcy today about what you're looking for:
📞 0429648 872 💻 dmcaust@hotmail.com